This past year gave me excessive opportunities to face my fear of needles: root canal, amniocentisis, countless blood draws, a third ear piercing set, and the long awaited tattoo...well, tattoos...no, singular tattoo.

Just about a year ago, I decided to go for it. Not sure what caused me to think I would do it, but thanking D for forcing me to go through with it. She all but dragged me into Sacred Harp tattoo in Salem for my first experience with the ink and needle. A xanax later, I was in the chair, cringing in fear and clutching D's hand as the needle first hit skin. Waiting for agony, it felt like...
well, like scratching a sunburn by accident when it itches. Not the most pleasant feeling I've known, but not the worst either.

Being a fan of pain meds to relieve unnecessary discomfort and knowing that complaining to doctors will do the trick (why suffer in silence? really? the good folks who make hydrocodone do so for a reason), I am very used to the 1 - 10 pain scale. migraine = 8 or 9, cramps = 7 or 8, blackout cramps = 9 or 10, rH negative shot = 5, tattoo = 2 or 3. see, not so bad.

But I digress. So last July the first tattoo was done in about 20 minutes time. I was quoted 45 - 60 minutes, but I was "a rock"...I didn't move or need a break, and it was done super-quick. I had pink angel wings and 3 little stars on my back.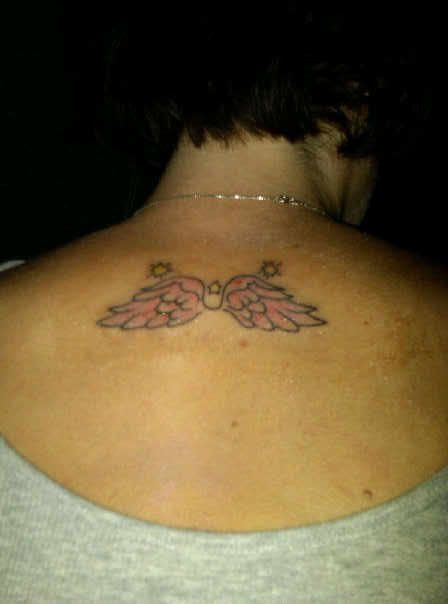 love.

The stars were for the lost sister and brother who remained angels, and my 'other' mom Trish.

Fast forward to December. I had my own angel baby to forever remember and thought the best way to do this would be with an additional tattoo. I found this design and thought it perfect:




Back to Sacred Harp we went. When sketched out and applied, it was a mess. Symmetry is huge in tattooing and the lack of symmetry in the new design did not work. When all was said and done, I ended up with this: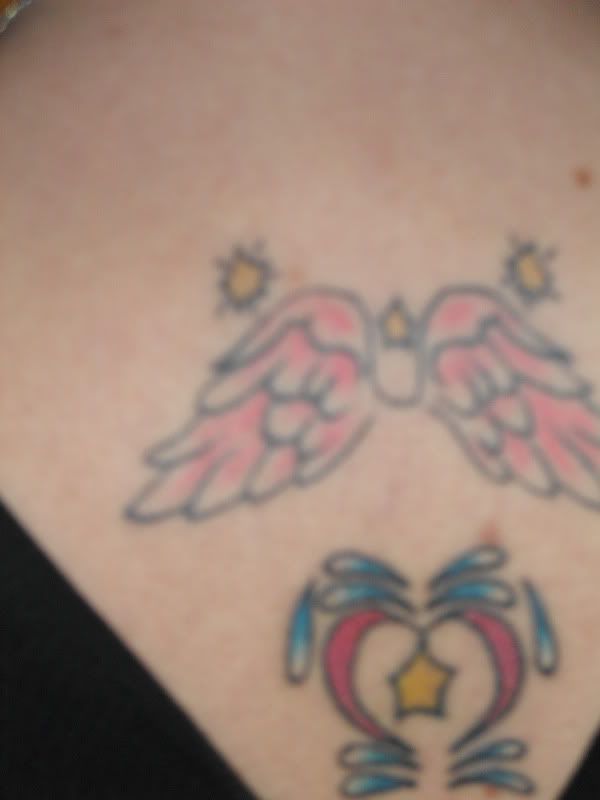 Not so perfect. Pretty much pain free again, so that was good.

So, after weeks of stressing over how to make it perfect, hubby treated me to a "re-do" at Electric Angel in NH. The name of the shop sounded perfect. The photos of Laurie's work were incredible. My friend's own tattoo done there is absolutely breathtaking. So off we went.

Let me tell you, she did an awesome job, but OH. MY. GOD. pain! this ranked up there as a 6 or 7. Tears were trying to escape, and hubby couldn't stay in the room to watch the whole time.

Later, he took the bandage off and OH. MY. again. This tattoo bled! No blood before. I had one of my panic attacks upon seeing this picture while hubby cleaned it off for me.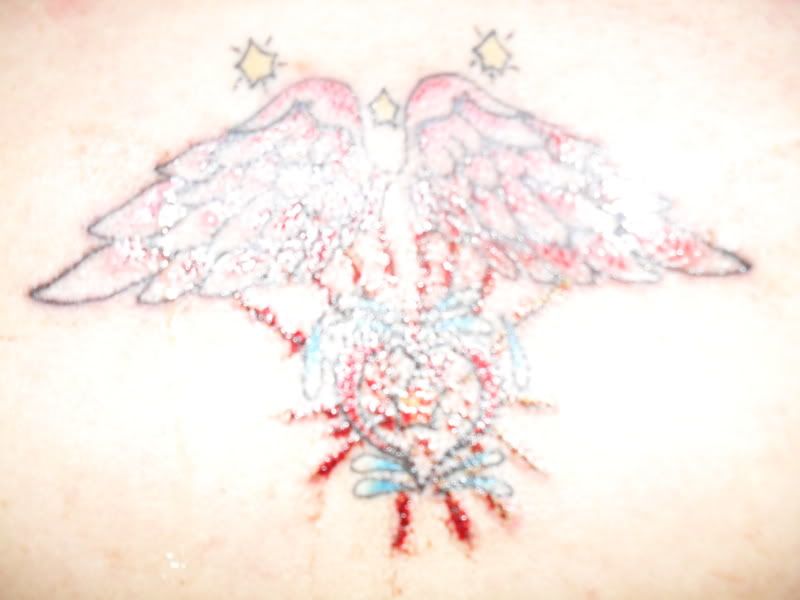 holy bloody mess.

Anyhow, after cleaning and applying aquaphor...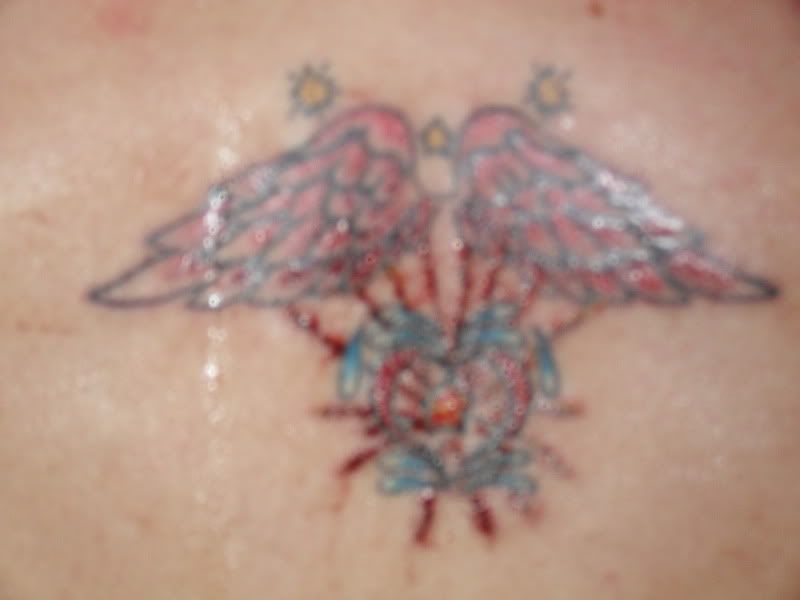 well, it looked worse.

Few minutes later, and this is the final result.


total love.

I am already planning the next one! My foot is looking pretty boring and I have a sketch in my head ready to go.

So, do I offer any advice for those of you considering some ink?
1. have a CLEAR idea of what you want before you go. Find or draw it out.
2. take an advil before you go.
3. know that the more detailed the image, the larger it will need to be on your skin to maintain detail as you age.
4. know that you will not be able to get it in pool water, pond water, or ocean water for 10 days to 2 weeks. Plan around vacations to avoid missed fun.
5. if the tattoo artist suggests making it bigger, he/she's right. You will be glad you did!